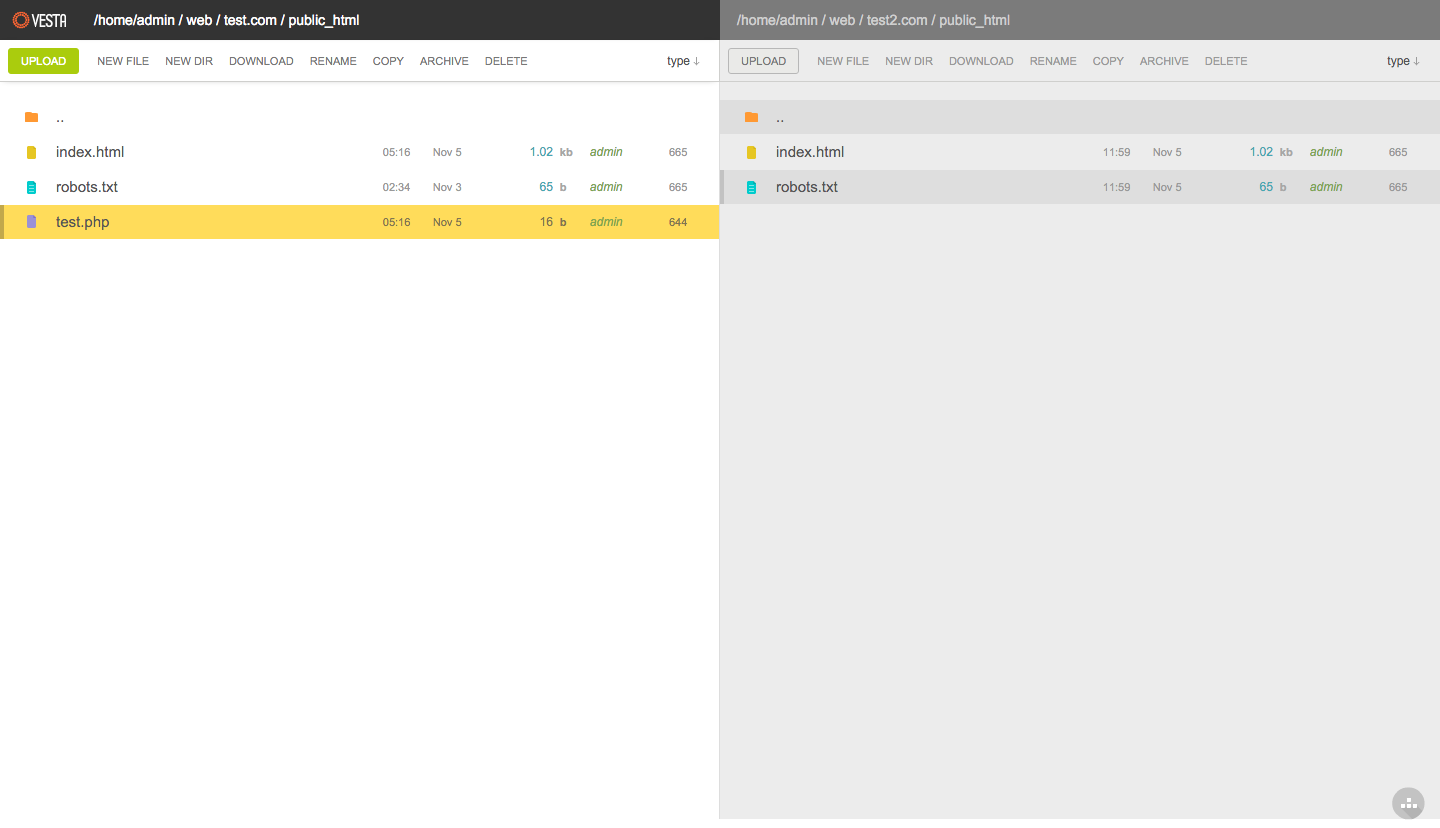 VestaCP File manager
One of the greatest new feature since long in vestaCP is the vestaCP file manager. After a short explanation in an earlier post, I now give you a more detailed look at the file manager. The file manager is very user-friendly and easy to use. The interface has a similar modern look as the existing control panel, making it easy for users to get the file manager quickly mastered. The screen is quick and only contains the necessary functions nowhere you find a button where you need to think twice about the meaning.
VestaCP File Manager
What noticed me first when you open the file manager is the split view. Your screen is divided into two views, one active side (colored) one side inactive (out grayed). With the tab key or just one click, you can quickly switch between the two views. Each view you can select a different folder, so you can easily manage multiple folders. The navigation is smooth; you can select folders and files. Or quickly go back in your file tree.
Create, upload, copy, delete
Create, upload and delete going super fast. You can upload multiple files at once, and the small progression bar will give you a basic indication of how long it will take. Unfortunately, I couldn't take a screenshot of it because of the fast upload. Because of the multi-select (CTRL + click or Shift + click) it is possible to delete multiple files. Only, it is not feasible to perform out a multi-select across the two views.
I must say that the file manager is not bug-free. One small mistake is in the archive function. I select two files, and I get the question to archive file2 to file2.tar.gz, but when I open the archives, the only file1 is in there.
Editor
Something that I find irritating is that you must modify the files in a new tab or popup. Why not open the file in any of the views so you can remain open and navigate through the directories and files. But it does what it should do. And it does it well. Opening a file with +2.000 lines without problems in no time. Even open and save a file from + 20.000 lines going smoothly. Only editing here doesn't go smoothly due to a little bit of lag. S, but in a smaller file (from 2000-5000 lines) everything goes well. There are also still some things that could be improved, and helpful. The syntax highlighting is not speaking to me like that, but that is personal. But like I said, it does what it should do, what I expected of it.
Shortcuts
To speed up your actions, there are shortcuts added. You can view them quickly by hitting the 'h' key on your keyboard. Most of them speak for themselves, and it's not hard to remember. So you can hit 'u' to upload, 'n' to create a new file or delete with the 'del' button.

Pricing
The price is not that high though this may for people who have multiple servers be a problem. For $3/month, you will not find many commercial file managers. I think it's worth to buy a lifetime license. If you use this panel commercially, you shouldn't complain about the price. You have the panel for free! And it is a function which your customers will be satisfied.
---